On April 25-26, 2018, IFPRI hosted a workshop on Natural Resource Management, Extension Services and Sustainable Agriculture at the Alisa Hotel in Accra, Ghana. This event was supported by the International Initiative for Impact Evaluation (3ie); the Feed the Future Developing Local Extension Capacity (DLEC) project; the CGIAR Research Program on Policies, Institutions, and Markets (PIM); and the Alliance for a Green Revolution in Africa (AGRA).
Policy advisors, development practitioners, and researchers gathered at a workshop on Natural Resource Management, Extension Services and Sustainable Agriculture to discuss impact pathways, findings, and evidence-based strategies to advance natural resource management (NRM) in Ghana and beyond. The workshop featured opening remarks from Karl Pauw (Program Leader, IFPRI Ghana Strategy Support Program), Felix Asante (Director, Institute of Statistical Social, and Economic Research, University of Ghana), and Forster Boateng (Country Manager, Alliance for a Green Revolution in Africa).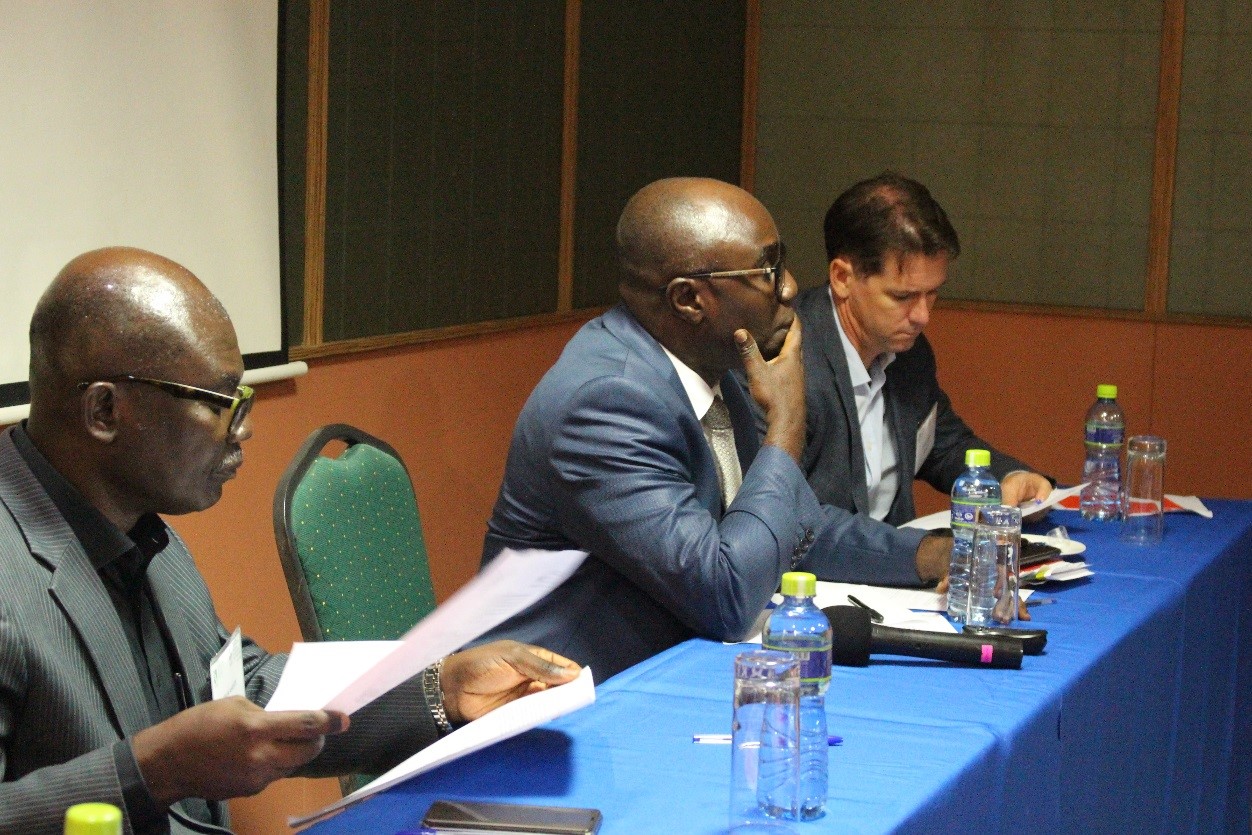 Participants deliberated on the reasons for the very low adoption rates among smallholder farmers and the fact that efforts to promote NRM at scale have had little success. The discussions focused on the complexity of natural resource management and the role of extension services in promoting it, while discussing the need for strengthening evaluation and evidence of NRM interventions for better knowledge on best case practices. Several issues were raised with regards to impact evaluations, notably the gap between evaluators and implementers.
In an agenda-setting session, David Spielman (IFPRI) noted that the entire landscape of NRM should be examined as it cuts across several divisions with many stakeholders and that policies and strategies at improving NRM should be participatory along a systems approach.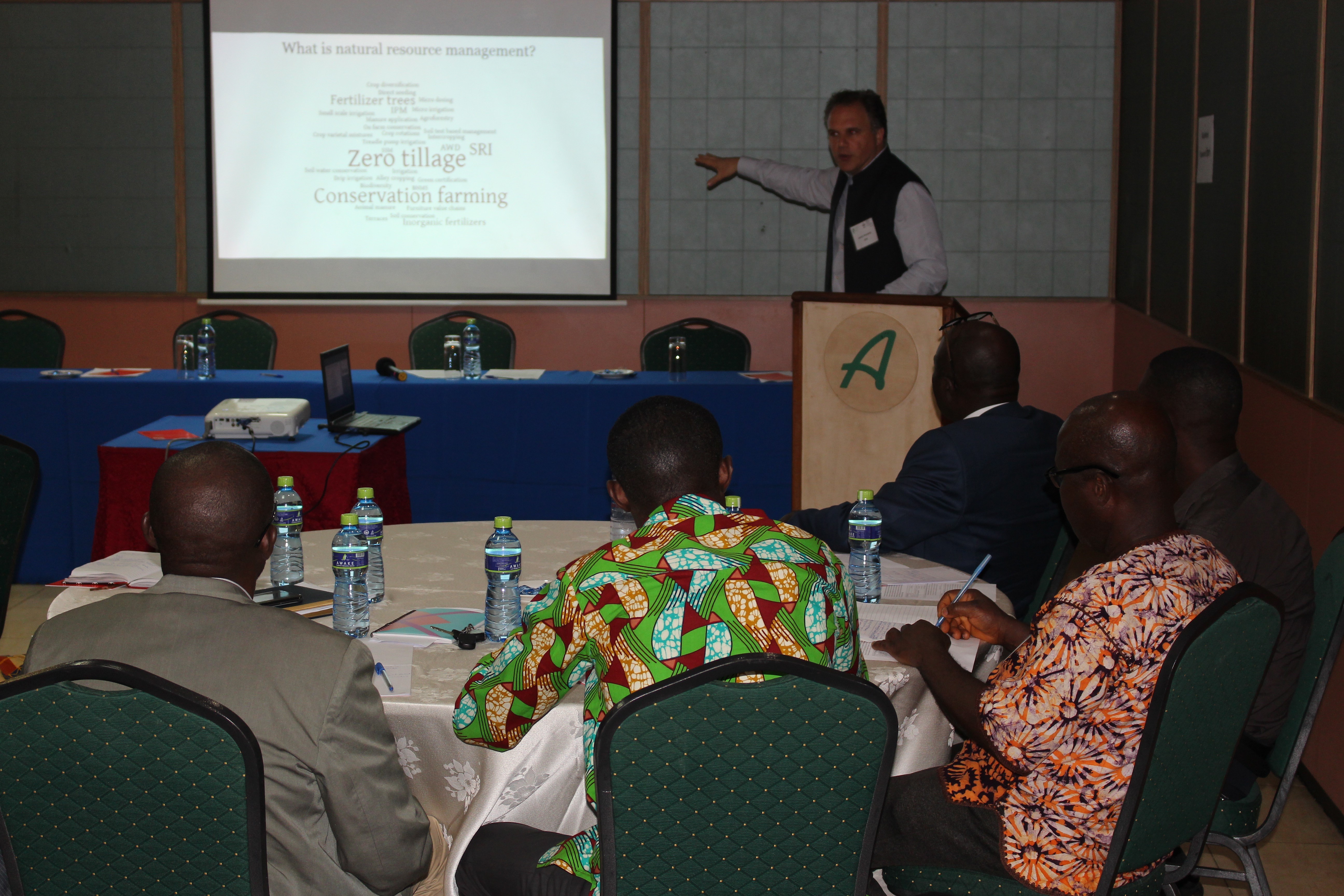 Two core sessions addressed 'extension and NRM' and 'building an evidence base'.
 In the first session, participants heard from Abdul Rahman Nurudeen (IITA) about NRM practices in northern Ghana, including strip-cropping, where two crops are planted in alternating strips on the same plot; and from Kristin Davis (IFPRI) on global insights on extension, including experiences from Bangladesh, Brazil, and Mozambique. Kristin suggested the way forward lies in developing capacities, understanding of the social elements of NRM, and developing policies and strategies that define the role of extension. Saa Dittoh (UDS) discussed the contradictions in Ghana's extension strategy and the way forward with regards to smallholder farming systems.
In the second session, which focused on evidence, Federica di Battista (IPA) reported on IPA's pilot Conservation Agriculture Evaluation (CAgE) program in Ghana which aims at testing if incentives can be a good option for promoting conservation agriculture; Pokuaa Adu (ISSER) presented examples of impact evaluations of NRM extension interventions carried out in Niger and Mali; and Simrin Makhijia (IFPRI) spoke on the challenges in undertaking impact evaluations in order to evaluate agricultural technology adoption, using the example of IFPRI's evaluation of the integrated soil fertility management in the Volta region of Ghana.
 In the working sessions, the participants identified priorities such as improving the skills of extension agents to share knowledge on NRM practices, identifying and sharing good practices in NRM through different mediums, and coordinating NRM activities and policies across the country. Spreading awareness on the value of impact evaluations and creating a platform for sharing evidence was also emphasized.
 Photo credit: GSSP/IFPRI