Ghana's cocoa industry has achieved consistent growth, but low global market prices, a lack of management transparency, and a shortage of younger farmers loom as major challenges, according to The Cocoa Coast: The Board-Managed Cocoa Sector in Ghana, a new book by IFPRI's Ghana Strategy Support Program.
The book, co-authored by IFPRI Senior Research Fellow Shashidhara Kolavalli and independent researcher Marcella Vigneri, was launched both in Accra, Ghana on February 22, and in Washington DC on March 8th.
The Cocoa Coast has focused attention on the industry's successes in Ghana and stimulated critical dialogue on its problems and potential reforms. "By pushing this book [we hope] society can be awakened to the potential of cocoa for the nation as well as our farmers," former Ghana President John Agyekum Kufuor noted at the book event in Accra.
Unlike other African countries, Ghana did not follow the free-market recommendations of the "Washington Consensus" and liberalize its cocoa industry, which is overseen by the Ghana Cocoa Board (COCOBOD). "What we are really trying to do in this book is to examine how Ghana has been able to manage its cocoa sector successfully through a quasi-government-run organization," Kolavalli told the panel at the Washington event.
"Cocoa is the mainstay" of Ghana's economy and has been since the colonial era," Kufuor observed. Today, Ghana produces up to 800,000 tons of premium cocoa annually, second globally only to Cote D'Ivoire. This combination of history and economic clout places cocoa at the center of the Ghanaian agricultural identity. Thus, the saying: "Ghana is cocoa and cocoa is Ghana."
Despite the industry's global scale, cocoa farmers and their families remain overwhelmingly poor. Farmers make as little as six cents on each U.S. dollar spent on a chocolate bar, and many of them live on $2 per day, according to panelist Simran Sethi, a food journalist and fellow at the Institute for Food and Development Policy. "People pay for one bar [of chocolate] what some farmers get for quarter of an acre," noted Barfuor Adjei-Barwuah, Ghana's ambassador to the United States.
It is not for want of industry, soils, or craftsmanship that the cocoa sector lags in paying producers equitably, Kolavalli said. Systemic issues with COCOBOD may play a role. The book's key recommendation is the need for greater accountability and transparency in how the surplus amassed by COCOBOD is managed and allocated.
"Cocoa being the mainstay of government's revenue in Ghana, no government, whether colonial or independent, would like to let it go. Even the independent governments have held strong control over the sector and shrouded it with secrecy," said Hon. Kufuor, in his remarks.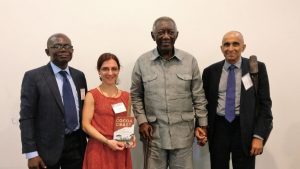 Nevertheless, COCOBOD has made significant progress increasing productivity and reducing poverty among cocoa producers over the past decade, Kolavalli noted.
Adjei-Barwuah argued that the structure of the international marketplace—in which chocolate manufacturers buy cocoa at low prices and then make profits further along the value chain—is the core of the inequity problem. "When the price is being fixed on the so-called international market, we are never there," he said. "If that is not looked at, no matter the changes of the administration, the share that goes to the farmer will always be lower."
Ghana's industry faces significant internal challenges as well. "Low productivity, lack of innovation, and low incomes" are discouraging Ghanaian youth from entering the industry, the book says. The unforgiving global market and the absence of accountability also put off young people. Cocoa farming is neither prestigious nor profitable.
"My father was a cocoa farmer [in Ghana] and since the day he died, I have never been back to the cocoa farm," said one member of the audience.
Hon. Kufuor felt that with the current policies increasingly emphasizing diversification, value addition, value chain developments, there is scope for alternative sources of revenue to emerge, and the excessive dependence on cocoa to gradually recede. "Liberalization of the cocoa sector is possible, but in due course." He expressed much optimism regarding the future of the Ghanaian cocoa sector because Ghanaian cocoa is well reputed for its quality in international market, and this market is expanding. "Instead of looking at cocoa as a primary raw material, we may also think about making use of its health and cosmetic attributes to produce value-added products."
Written by Shelleka Darby, an IFPRI Communications Intern, and reposted with permission.