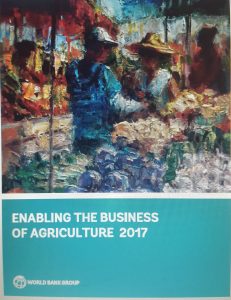 The World Bank has launched its report on Enabling the Business of Agriculture (EBA) 2017, which analyses the impact of regulatory environment on agricultural performances and identifies good practices for enabling the business of agriculture. The report provides valuable insights into regulatory frameworks and institutions that can potentially increase access to inputs and markets for higher agricultural productivity and sustainability, while fostering competitive markets for agrarian welfare and food security. The report measures regulatory quality in 62 countries, with Ghana ranking 16 for finance, 22 for ICT and 30 for water, while the country was ranked 48 for seed, 54 for markets and 59 for transport.
To know more about the report launch, click here.
Download full report.