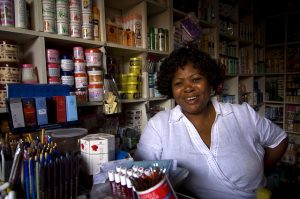 A joint discussion paper by researchers from IFPRI and KU Leuven provides an empirical insight into the impact of mothers' non-farm entrepreneurship on the propensity of child secondary school enrollment; and in so doing contributes to the knowledge gap in the literature on the link between rural NFEs and children's education in developing countries.
Using nationally representative data for Ghana, the study finds a significant and strong effect of rural NFEs on children's school enrollment, especially enrollment rates in junior high schools. While that for senior high schools is constraint by higher expenses and a less spread payment timing. Though most of the female-owned NFEs are small-scale and take place in the informal economy, yet these businesses can potentially contribute to long-term improvements in child welfare, given that the school-improving effect of mothers' non-farm entrepreneurship is equally strong for boys and girls and for high- and low-educated mothers, and stronger for poorer households.
The results suggest that promoting NFEs among women in rural Ghana is an inclusive policy to increase junior high school enrollment; while, amongst other things, initiatives to render NFEs more profitable and facilitate savings schemes that can enable NFE revenues to be utilized for paying school expenditures might stimulate enrollment rates in senior high schools.
To read more, click here